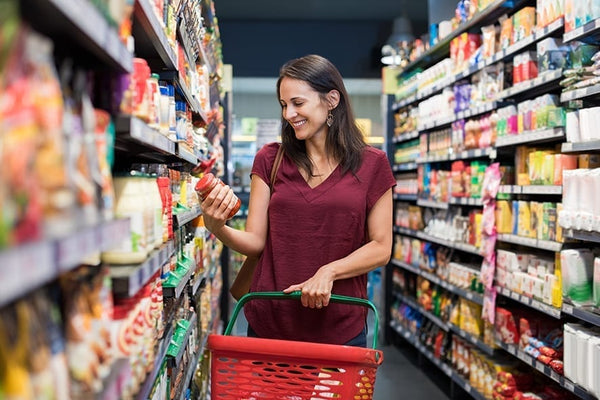 One of the reasons I developed the Bay's Kitchen brand is because after being diagnosed with IBS and handed a scrap of paper saying 'FODMAP' I then spent hours upon hours for the next few months in supermarkets scanning the shelves and reading the back labels of hundreds of products to try to find something I could eat, which didn't contain high FODMAP ingredients!
So having done a lot of the leg work, I have managed to find some safe foods out there which, for me anyway, don't trigger IBS flareups. What I would still love to see however, are many more certified Low FODMAP products (like ours) on the supermarket shelves.
Whilst there are very few certified Low FODMAP products on the shelves of the big supermarkets at the moment, many of them are excelling with their Free From ranges and so these are the ones we have high hopes for, to see a Low FODMAP section within the stores (or online) in 2019.
We hope to find our products stocked in many of these in 2019 (we will bring news as soon as we have it) but don't forget we are stocked in Ocado!
Ocado
Ocado is the first main stream retailer to stock our products… and so naturally they are top of our list! They also have gluten free, dairy free, soya free, vegan, kosher, halal and many other Free From & Organic sections to their website, making it the most versatile of the supermarkets in terms of it's free from offering.
What I love about Ocado is the sheer variety of products, as well as new and upcoming brands and the detail they display about the products on their site… meaning you can scan the labels and ingredients lists from the comfort of your own sofa!
Morrisons
Morrisons have launched a 'Health & Wellbeing' section in around 60 of their largest stores. This would be the perfect place to launch a 'Low FODMAP' range as Low FODMAP foods aren't strictly 'Free From' as they don't 100% exclude any of the 14 allergens.
Morrisons current Free From and Health & Wellbeing ranges are varied and can be easily found in their stores and online. We really hope to see them expand their Health & Wellbeing range in 2019 and add it into more of their stores!
Sainsbury's & Tescos
I have actually listed Sainsbury's and Tescos together as I believe they are both as good as each other with their Free From ranges. Both redesigned their Free From branding and packaging on their own-label products not so long ago, and quite dramatically extended their Free From sections (both fresh and food cupboard products).
They have both also launched own-label Free From Christmas foods too! Imagine if next year they had Christmas Low FODMAP Foods!
So that's our current take on some of the UK supermarkets free from categories. We'd love to know if you agree with us, if you have had any luck in finding Low FODMAP products on the supermarket shelves which we haven't mentioned!
What would you like to do now?
Click here to find more articles >>
Click here to check out the shop >>
We hope as always that you have enjoyed reading our article. If you have any questions or any topics you would like us to cover in our blog, please email us at hello@bayskitchen.com.
Written by Bay Burdett, Founder & CEO of Bay's Kitchen.
Copyright Bay's Kitchen. Please do not reprint without permission.
Introducing Uniquely Created U
Dr Nicholas Peat and Vanessa Peat are husband and wife and the co-founding directors of Uniquely Created Nutrition and Health (UCU). UCU was founded to educate, support, and drive sustained lifestyle change, transforming mindset and shaping a healthy lifetime behavioural change.
Relaxation Techniques
For National Relaxation Day (15th August) we want to share the best ways to relax when struggling with IBS. Why is this so important? Well, stress can be a massive IBS trigger, causing symptoms to worsen and sometimes causing a flare-up on its own.
Feeling your best in 2023
Hi lovely people! It's Emma from @shecanteatwhat here. Now I don't get that back to school buzz that some people do in January. It takes me a few weeks to get out of my post-Christmas daze, to wean-off the chocolate coins and brussel sprouts that I have eaten daily as a side at breakfast and to get back in the I'm-excited-for-work-zone. This blog includes my tips to feel your best in 2023.
Close (esc)
Popup
Use this popup to embed a mailing list sign up form. Alternatively use it as a simple call to action with a link to a product or a page.
Age verification
By clicking enter you are verifying that you are old enough to consume alcohol.