My Story
I had been suffering for many years with uncomfortable symptoms on a daily or weekly basis including cramps, fatigue, back pain, bloating and the other (oh so lovely) symptoms of IBS.
In 2015 I hit the limit of pain, discomfort and the inconvenience of feeling this way and finally made an appointment with a doctor. Diagnosed with IBS, I was advised to follow a low FODMAP diet. I researched what convenient low FODMAP foods I could get in the UK and was disappointed to find there was virtually nothing – so I began to make every single meal from scratch!
Working long hours and living alone, it wasn't sustainable to follow this diet, making every meal from scratch every day. I knew that a huge amount of people were suffering like me (1 in 5 suffer with IBS) and so I knew there had to be a better way. I decided to develop my own low FODMAP foods which were tasty and convenient… and Bay's Kitchen was born!
Find out about Bay's Kitchen
Our Brand
Bay's Kitchen was born from a desire to create a new range of low FODMAP food products to help fellow IBS sufferers find food which is low in FODMAP's, yet tastes great and is convenient for our fast-paced lives.
Read more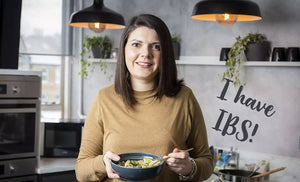 Our Mission
It is my mission to continue to expand this range of Low FODMAP foods to offer people suffering with digestive issues top quality delicious food that meets their dietary needs and lifestyle.
Read more
Bay's Kitchen bring friends and families together to enjoy meals without compromise.
Low FODMAP Food
•

Gluten Free

•

Dairy Free

Bay's Kitchen produce award winning, certified Low FODMAP (IBS Friendly), Gluten Free, Dairy Free foods, many of which are Vegan.

Fodmap
Friendly

Gluten
Free

Dairy
Free

Vegan
Approved