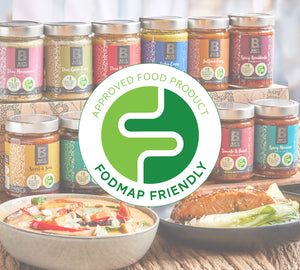 FODMAP FRIENDLY
All of our products are certified Low FODMAP by FODMAP Friendly. This means they don't contain hard-to-digest ingredients and so shouldn't trigger IBS symptoms.

Bay's Kitchen products are certified by FODMAP Friendly, trading name of Fodmap Pty Ltd of Australia. Compared to many similar products, our foods are Low FODMAP as they are >90% free of Galacto-oligosaccharides (GOS), Fructose, Glucose, Lactose and Polyols.

**Galacto-oligosaccharides (GOS) & Fructan total <0.4g/serve to be Low FODMAP.

***Sorbitol & Mannitol total <0.5g/serve to be Low FODMAP.

You can find out more about the FODMAP Friendly Product Certification via the button below.
FODMAP INFO
FREE FROM
Gluten Free
All Bay's Kitchen Products are Gluten-Free certified and have less than 5ppm (parts per million). We test and certify for being Gluten Free on a rolling basis.
Dairy & Milk Free
All Bay's Kitchen products are also tested to be dairy free. Our lab tests are run on a rolling basis and show our products are free from Milk Proteins with less than 2.5 ppm (parts per million).
VEGAN
Most of our products are approved as suitable for Vegans and Vegetarians by The Vegetarian Society. The only products in our current range which aren't Vegan approved are our meat-based gravies and concentrated stocks.
Vegetarian Society
OUR FACTORY
Nut Free
All our products are nut free and produced in a nut free factory. However, please note that our ingredients suppliers may handle nuts in their production process.
Other Allergens
A number of our products do contain other allergens including Soy, Mustard and Sulphites. These are all clearly labelled in the ingredients section of each product page on our website, as well as on the product labels. Our factory does use other allergens, but all allergens are strictly segregated and managed according to BRC Factory Standards.
CLEAN INGREDIENTS
We are very proud to only use 'clean' ingredients in our products and we are 100% Palm Oil Free.
FOOD PRODUCTION STANDARDS
BRC Accreditation
The factory producing Bay's Kitchen products is certified as BRC, provided by BRCGS – the highest standard of food safety and regulation in the UK.

BRCGS is a leading brand and consumer protection organisation, used in over 130 countries. BRCGS' Standards guarantee the standardisation of quality, safety and operational criteria and ensure that manufacturers fulfil their obligations and provide protection for the end consumer. This standard is recognised by the Global Food Safety Initiative (GFSI).
Shop our Low FODMAP & Free From products!