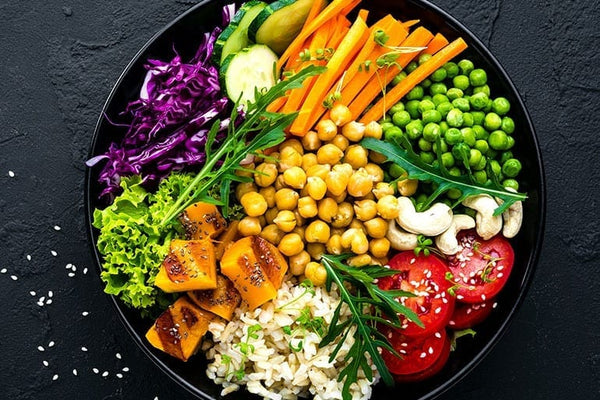 Dairy Free Diety & Lactose Free Diet?
Dairy allergy is one of most common allergies, especially in children. As many as 2 in every 100 children under 4 years old are allergic to milk. Lactose intolerance is much more common than a dairy allergy, with about 10% of the population suffering.*
How do Bay's Kitchen help?
At Bay's Kitchen we now certify all our products as dairy-free, as well as gluten-free and Low FODMAP, so no matter whether you're allergic to dairy, have coeliac disease or you are intolerant to lactose, gluten or other FODMAPs, our foods are suitable!
We also have a huge range of recipes on our website, all of which are Gluten Free and Low FODMAP approved, but many are also Dairy Free – click here to find them.
Many of our other recipes can easily be made dairy free with simple substitutions.
Following the Low FODMAP Diet is a good way to identify if you are intolerant to lactose, or if you have other intolerances. Lactose is one of the 'FODMAP' groups which is tested in the diet. Why not use our Food & Symptom Diary to help you identify your key triggers, and it's got a great section for reintroducing FODMAPs (including lactose!) – Food & Symptom Diary.
Before embarking on the Low FODMAP Diet it's important to see your doctor to rule out other conditions like inflammatory Bowel Disease (IBD), Coeliac Disease or a Dairy Allergy.
*Reference https://www.webmd.com/digestive-disorders/lactose-intolerance-or-dairy-allergy#1
Dairy Free Certified
At Bay's Kitchen, we certify all of our products as Dairy & Milk Free, Gluten Free and Low FODMAP! So they don't contain any hard-to-digest ingredients, and are suitable for those on a Dairy Free diet!
Therefore, if you are Dairy intolerant, you needn't worry as we ensure our products are now Dairy Free certified and made in a factory with strict allergen controls.
SHOP DAIRY FREE NOW
Introducing Uniquely Created U
Dr Nicholas Peat and Vanessa Peat are husband and wife and the co-founding directors of Uniquely Created Nutrition and Health (UCU). UCU was founded to educate, support, and drive sustained lifestyle change, transforming mindset and shaping a healthy lifetime behavioural change.
Relaxation Techniques
For National Relaxation Day (15th August) we want to share the best ways to relax when struggling with IBS. Why is this so important? Well, stress can be a massive IBS trigger, causing symptoms to worsen and sometimes causing a flare-up on its own.
Feeling your best in 2023
Hi lovely people! It's Emma from @shecanteatwhat here. Now I don't get that back to school buzz that some people do in January. It takes me a few weeks to get out of my post-Christmas daze, to wean-off the chocolate coins and brussel sprouts that I have eaten daily as a side at breakfast and to get back in the I'm-excited-for-work-zone. This blog includes my tips to feel your best in 2023.
Close (esc)
Popup
Use this popup to embed a mailing list sign up form. Alternatively use it as a simple call to action with a link to a product or a page.
Age verification
By clicking enter you are verifying that you are old enough to consume alcohol.