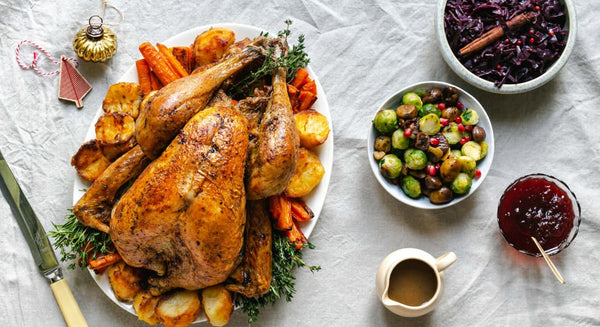 My favourite part about Christmas is Boxing Day. Controversial I know, but I LOVE leftovers and all things cheese boards. To give you a helping hand this year, we have made a list of our top 5 leftover ideas, ensuring that these are all Low FODMAP – taking the worry out of the Christmas season.
Classic Turkey Curry
What is better than the classic Turkey Curry? Here at Bay's Kitchen, curry is definitely one of our most popular dishes & we have plenty of curry sauces varying in spice levels so that you can pick your favourite to add in the leftover Turkey. We have tweaked a recipe created by Cook & Author Emma Hatcher (www.shecanteatwhat.com) to make an easy Low FODMAP Turkey Curry. Choose between our Mild Korma & Tikka Masala sauces depending on how you handle spice, or you can give it a Thai twist with our Thai Massaman, Thai Red or Thai Green Curry sauces!

Bubble & Squeak
It's such a shame that this usually includes a lot of high FODMAP ingredients like onion! But, now you can create an incredible Low FODMAP version by following Becky Excell's brilliant recipe. She even tops the Bubble & Squeak with gluten free breadcrumbs to make it even more delicious! Click here for the full recipe.
Cold Meat Platter
Now this is where you can have fun & make something that looks incredible. Think all things charcuterie board! Really there is no set recipe to follow on this one, just let your imagination run wild. But here's what I would put on mine:
Cold turkey
Pigs in blankets (if you have any left)
Gluten-free breadsticks
Warm gluten-free bread
Cheese (all the cheese – I would choose Cheddar, Camembert & Brie)
Gluten-free crackers
Cherry tomatoes
Grapes
Olives
Cold ham
Salami (check ingredients to make sure there is no onion or garlic used)
Nuts & more…
Please check all ingredients & quantities of ingredients that you include in your Cold Meat Platter on the Monash App to ensure that they are all Low FODMAP. Grab all your foody goodies and start arranging, the more beautiful & colourful the better. Here are some images for layout inspiration:

Turkey Pie
There is nothing more festive than a delicious Christmas Pie & recently Cook & Author Emma Hatcher (www.shecanteatwhat) created an amazing Low FODMAP & Gluten Free Chicken, Chestnut & Spinach Pie. This recipe is perfect to tweak for our Christmas leftovers pie by swapping out the Chicken for our Turkey. Click here for the full recipe – simply leave out the Chicken & add in the leftover cooked turkey when you add in the spinach.
Turkey Pasta Bake
Once again Emma Hatcher has created the perfect base recipe for this one! I absolutely love a pasta bake & it is ultimate comfort food for me.

We at Bay's Kitchen hope that you have a fantastic Christmas & that these Low FODMAP leftover ideas will help to give you some dish inspiration to make the festive season a little easier & worry-free. Remember that we have plenty more recipes too in case you ever need a helping hand to keep the Low FODMAP Diet fun & delicious. We can't wait to bring you even more tasty recipes in 2023.
---
Written by Bay's Kitchen.
Copyright Bay's Kitchen. Please do not reprint without permission.
Introducing Uniquely Created U
Dr Nicholas Peat and Vanessa Peat are husband and wife and the co-founding directors of Uniquely Created Nutrition and Health (UCU). UCU was founded to educate, support, and drive sustained lifestyle change, transforming mindset and shaping a healthy lifetime behavioural change.
Relaxation Techniques
For National Relaxation Day (15th August) we want to share the best ways to relax when struggling with IBS. Why is this so important? Well, stress can be a massive IBS trigger, causing symptoms to worsen and sometimes causing a flare-up on its own.
Feeling your best in 2023
Hi lovely people! It's Emma from @shecanteatwhat here. Now I don't get that back to school buzz that some people do in January. It takes me a few weeks to get out of my post-Christmas daze, to wean-off the chocolate coins and brussel sprouts that I have eaten daily as a side at breakfast and to get back in the I'm-excited-for-work-zone. This blog includes my tips to feel your best in 2023.
Close (esc)
Popup
Use this popup to embed a mailing list sign up form. Alternatively use it as a simple call to action with a link to a product or a page.
Age verification
By clicking enter you are verifying that you are old enough to consume alcohol.