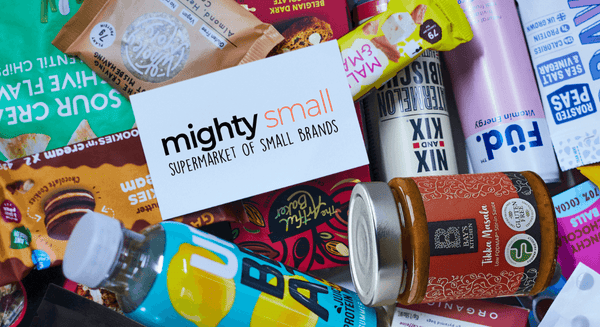 At Mighty Small, we're all about supporting the most exciting British independent brands that offer tasty and unique food and drink.
That's why we created our online shop with exclusively small brands that want to make a big difference. We're proud to offer Bay's Kitchen to our customers as a small brand that champions great-tasting sauces without compromising on health.

We launched in April 2020, during the first pandemic lockdown, to ensure people could still get hold of their favourite small brands as well as discover more. Whether you're looking for a 24 pack of your favourite soft drink, flavour-packed meal kits or a gift box full of snacks and other goodies, we have it all!
Since opening, we've welcomed 70 brands and 400 products, hosted exciting giveaways and shared the message of supporting small businesses to thousands of customers.
We deliver across the UK, having sent packages from the northernmost Scottish islands down to the Channel Islands. We supply both individuals looking for a delivery direct to their homes or to gift loved ones, and also trade business (cafes, offices, shops) looking to line their shelves with exciting, small brands at wholesale volumes. Our mission is to get passionate brands into as many hands as possible!
From their feedback, we've heard that our customers absolutely love Bay's Kitchen, with the Thai Massaman and Thai Green Curry Stir-in Sauces being fan favourites. They appreciate Bay's dedication to crafting delicious sauces that are also low FODMAP and gluten-free. With loads of our products being created for people with allergies or intolerances, Bay's Kitchen fits right in by offering unique sauces that are IBS-friendly. With other flavour-packed sauces like Katsu Curry and Concentrated Vegetable Stock on offer, we're glad to be spreading Bay's message and mission.

If you love Bay's Kitchen, we're sure you'll absolutely adore some of our other products. Our cupboard staples include Extra-Virgin Cold-Pressed Avocado Oil and Kalamata Olives with Oregano Biscotti Nibbles that would compliment your Bay's Kitchen dishes perfectly! Looking for something to cleanse the palette? You might like our range of healthy vegan Soft Drinks & Juices with real fruit and reduced sugar.
Or if you're a business looking to buy Bay's Kitchen and other independent brands in bulk, check our Corporate & Trade page.
With 95% five-star reviews on Trustpilot, we love to provide our customers with the best of British start-up brands.
Love supporting small businesses that create mouth-watering treats? Check out Mighty Small today!
Written by Mighty Small, on behalf of Bay's Kitchen.
Copyright Bay's Kitchen. Please do not reprint without permission.
Introducing Uniquely Created U
Dr Nicholas Peat and Vanessa Peat are husband and wife and the co-founding directors of Uniquely Created Nutrition and Health (UCU). UCU was founded to educate, support, and drive sustained lifestyle change, transforming mindset and shaping a healthy lifetime behavioural change.
Relaxation Techniques
For National Relaxation Day (15th August) we want to share the best ways to relax when struggling with IBS. Why is this so important? Well, stress can be a massive IBS trigger, causing symptoms to worsen and sometimes causing a flare-up on its own.
Feeling your best in 2023
Hi lovely people! It's Emma from @shecanteatwhat here. Now I don't get that back to school buzz that some people do in January. It takes me a few weeks to get out of my post-Christmas daze, to wean-off the chocolate coins and brussel sprouts that I have eaten daily as a side at breakfast and to get back in the I'm-excited-for-work-zone. This blog includes my tips to feel your best in 2023.
Close (esc)
Popup
Use this popup to embed a mailing list sign up form. Alternatively use it as a simple call to action with a link to a product or a page.
Age verification
By clicking enter you are verifying that you are old enough to consume alcohol.