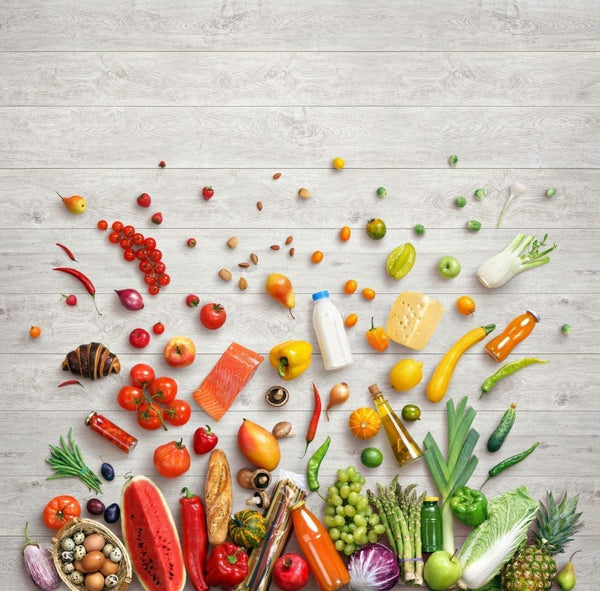 Proven to help sufferers of IBS
Irritable Bowel Syndrome (IBS) affects more than 20% of the population. It's a debilitating condition which can range from mild/infrequent symptoms to constant pain and suffering which takes over your life. Typical symptoms include a change in bowel habits (constipation and/or diarrhoea), bloating, fatigue, stomach cramps and back pain.
What is the Low FODMAP Diet?
It's a scientifically proven diet to reduce and even eliminate the symptoms of IBS in over 75% of people who try it.
It works by completely removing high FODMAP ingredients such as onions, garlic, lentils, lactose and wheat, which are hard to digest, from your diet for a short period of time and then you reintroduce as many as you can to your own tolerance. The diet can be challenging, but totally worthwhile sticking to. Find details about the three phases of the diet below including some top tips along the way to help you succeed.
As with any diet, but particularly due to the large amount of foods you'll eliminate to start with on this one, we cannot express enough how much we recommend you to seek advice and guidance from a registered and FODMAP trained dietician and ideally your GP too. The diet can be difficult to follow, and whilst you're thinking of what meals you could make and scanning food labels for ingredients, you don't want to worry about whether you're getting enough fibre or nutrients etc. Ask your dietitian to help you create a balanced diet and meal plans – it'll be worth it!
How do Bay's Kitchen help?
We've spent a huge amount of time working with trained chefs and dieticians to create convenient, great tasting low FODMAP foods.
We send all our products for FODMAP Friendly Foods certification, so you can be safe in knowing they are suitable to eat whilst on the elimination stage of the diet.
We've focussed a lot on the flavour of our fodmap friendly products, to ensure you don't have to compromise on taste – so yes, you'll find award-winning fodmap friendly curry sauces without onion and garlic!
---
The three stages of a Low FODMAP Diet

Resources to help with an IBS Friendly, Low FODMAP Diet
To follow this diet through all stages there are a few things I have found helpful which I have included on further pages and blog posts;
Top 5 resources for those suffering with IBS (in UK)
FODMAP Help and Resources I have found useful
An IBS & Low FODMAP Glossary which defines all those complex medical and technical words and acronyms
What are the FODMAPs again?
Check our FODMAP Friendly Certification
There's lots more useful information about IBS and the Low FODMAP Diet in our FAQs section.
Introducing Uniquely Created U
Dr Nicholas Peat and Vanessa Peat are husband and wife and the co-founding directors of Uniquely Created Nutrition and Health (UCU). UCU was founded to educate, support, and drive sustained lifestyle change, transforming mindset and shaping a healthy lifetime behavioural change.
Relaxation Techniques
For National Relaxation Day (15th August) we want to share the best ways to relax when struggling with IBS. Why is this so important? Well, stress can be a massive IBS trigger, causing symptoms to worsen and sometimes causing a flare-up on its own.
Feeling your best in 2023
Hi lovely people! It's Emma from @shecanteatwhat here. Now I don't get that back to school buzz that some people do in January. It takes me a few weeks to get out of my post-Christmas daze, to wean-off the chocolate coins and brussel sprouts that I have eaten daily as a side at breakfast and to get back in the I'm-excited-for-work-zone. This blog includes my tips to feel your best in 2023.
Close (esc)
Popup
Use this popup to embed a mailing list sign up form. Alternatively use it as a simple call to action with a link to a product or a page.
Age verification
By clicking enter you are verifying that you are old enough to consume alcohol.