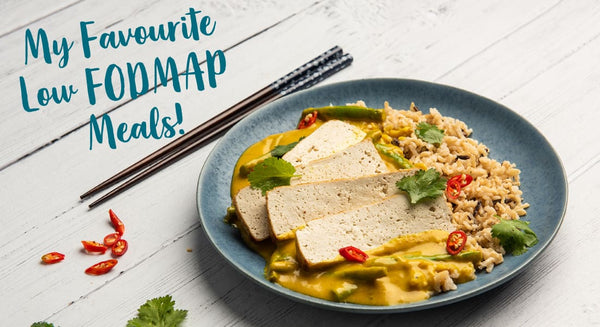 Following the Low FODMAP Diet isn't easy, particularly at the start. You find yourself spending endless time walking up and down supermarket aisles, reading every food label to see what you can find that's safe to eat. So, I thought I'd share some of my easy, mostly quick and always tasty Low FODMAP meals, so you can try them at home.
We all get tired and there'll be times when you feel like giving up and just ordering a pizza… a decision you'll most likely regret in the next 2-72 hours. Therefore, it's important to make sure your cupboards are always stocked with some key ingredients so you can easily make these meals or others and to stop you from turning to the take-away menu!
• Chopped tomatoes
• Tomato paste
• Peppers
• Courgette
• Carrots
• Fresh tomatoes
• Gluten Free pasta
• Potatoes
• Mozzerella and/or Cheddar cheese
• Eggs
• Your favourite meat or fish (unless of course you're a veggie!)
• Your favourite Low FODMAP herbs and spices
(Mine are Thyme, Chives, Rosemary, Paprika & Chilli)
With these ingredients in the cupboard you have many options of quick, tasty Low FODMAP snacks and meals, from gluten free pasta dish, to potato skins to an omelette!



Grilled King Prawns
Grilled King Prawns are one of my favourite foods! However when eating out I often find them paired with garlic 🙁 so I cook them at home a lot now and they make a fab addition to many dishes including pasta, salad and stir frys!



Spicy Stuffed Peppers
Stuffed peppers are great for dinner, smaller ones for snacks and also look great for dinner parties! I usually fill these with rice, veg, paprika and sometimes chicken too. Oh and don't forget to add a chopped chilli to add a kick!!



Pan Fried Lemon Sole
For a simple but filling meal, I often turn to a piece of meat or fish, potatoes and salad. One of my favourites is Pan Fried Lemon Sole, accompanied by roast potatoes and a light salad. Don't forget the fresh lemon to squeeze over the fish when in the pan and when served.



Banana & Blueberry Porridge
I quite enjoy my Low FODMAP breakfasts – whether its eggs and bacon at the weekend or a Low FODMAP smoothie when I'm in a hurry. One of my 'go to' breakfasts is porridge, partilulary in the Autumn and Winter months. I often add strawberries, blueberries and/or banana, along with chia seeds and a few nuts for a bit of crunch! It's great fun experimenting with different flavours!
I hope you have enjoyed reading about my favourite Low FODMAP ingredients and meals. If you would like any further details on any of the above please email me and I'd be happy to help. I hope this blog helps you find your 'go to' dishes to save you from derailing from the Low FODMAP Diet!
Written by Bay Burdett, Founder & CEO of Bay's Kitchen.
Copyright Bay's Kitchen. Please do not reprint without permission.
Introducing Uniquely Created U
Dr Nicholas Peat and Vanessa Peat are husband and wife and the co-founding directors of Uniquely Created Nutrition and Health (UCU). UCU was founded to educate, support, and drive sustained lifestyle change, transforming mindset and shaping a healthy lifetime behavioural change.
Relaxation Techniques
For National Relaxation Day (15th August) we want to share the best ways to relax when struggling with IBS. Why is this so important? Well, stress can be a massive IBS trigger, causing symptoms to worsen and sometimes causing a flare-up on its own.
Feeling your best in 2023
Hi lovely people! It's Emma from @shecanteatwhat here. Now I don't get that back to school buzz that some people do in January. It takes me a few weeks to get out of my post-Christmas daze, to wean-off the chocolate coins and brussel sprouts that I have eaten daily as a side at breakfast and to get back in the I'm-excited-for-work-zone. This blog includes my tips to feel your best in 2023.
Close (esc)
Popup
Use this popup to embed a mailing list sign up form. Alternatively use it as a simple call to action with a link to a product or a page.
Age verification
By clicking enter you are verifying that you are old enough to consume alcohol.