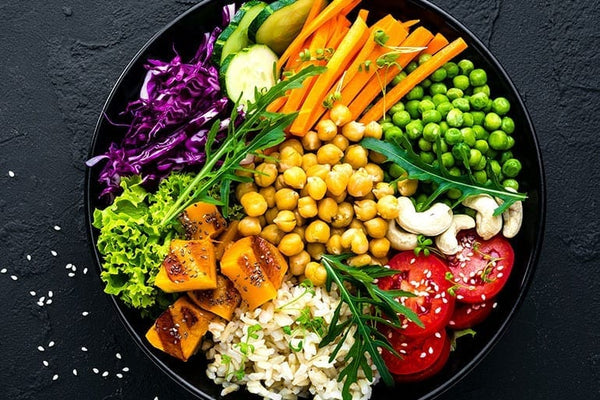 The FODMAP diet is a 3-step elimination diet which helps to identify foods that trigger your IBS symptoms. It was developed in Monash University in Australia and is now one of the leading therapies for IBS.
The diet is an effective route to managing IBS symptoms, but it can be difficult to follow. So to help you out, we've asked our dietitian Laura Tilt for her 10 steps to success with step one – the elimination phase.
1. Get diagnosed
IBS symptoms can be similar to other conditions like coeliac disease and Crohn's disease so it's really important not to self diagnose and follow a low FODMAP diet without medical advice. If you've not been to see your doctor, this is the first step.
Taking a symptom diary with you will help you describe the symptoms you've been experiencing.
2. Find a dietitian
The FODMAP diet is complex and involves eliminating various foods. For this reason it's not recommended you follow the diet without the support of an experienced dietitian.
You can ask for a referral from your doctor, or you can find a private dietitian who is trained in the diet.
Some private health insurers also cover dietitian appointments. In most cases you'll need two to three appointments.
3. Don't start immediately
It's tempting to want to jump straight into the diet after your first dietitian appointment but it's more helpful to press pause and think about what you need to prepare to get you on the road to success.
Most people will need time to shop, prepare food and sort their kitchen cupboards.
Give yourself a few days to get everything ready, decide on the date that you'll start the diet and make a note in your diary or phone.
4. Create a weekly meal plan
Adjusting to a low FODMAP way of eating takes time – and the worst thing is getting started and then realising you've no idea what you're going to eat for lunch or dinner.
Create a meal plan for the first week at least so you know what you're going to eat and when. It doesn't have to be very detailed; even a rough plan ('porridge with raspberries' or 'salmon, rice and spinach') will be very helpful in the early days. It'll also help you create a shopping list and avoid food waste.
5. When you remove, make sure you replace
One of the biggest problems with the FODMAP diet happens when people don't replace high FODMAP foods with low FODMAP alternatives. Removing lots of foods from your diet without adding in replacements means your diet ends up very limited – and this can make it difficult to get all the nutrients you need to stay healthy.
Try to replace each high FODMAP food you remove with a low FODMAP alternative – for example, swap in regular milk for lactose-free, or swap a snack of an apple for an orange. If you're unsure of what to replace with, chat to your dietitian.
6. Sort your kitchen cupboards
We're more likely to eat the first thing we see than the fifth, so give yourself a helping hand with sticking to the elimination phase by sorting your kitchen cupboards so that you have plenty of low FODMAP foods to hand when you go to cook.
You don't need to throw out other foods – move them to the back of the cupboard or into a separate cupboard or box for now. Making a copy of low FODMAP food lists and sticking them on the inside of your cupboard doors as a reminder can also be a huge help.
7. Stock up on FODMAP Friendly flavour enhancers
Many popular ingredients (like onion, garlic and stock cubes) are not suitable for during FODMAP elimination, and this can create a bit of a challenge with creating flavoursome dishes when cooking.
Happily there are plenty of great alternatives, the key is to make sure you stock up on these before you start the diet. Our favourites include garlic-infused olive oil, the green tips of spring onions or green leek leaves, fresh ginger, fresh herbs, tamari or soy sauce, peanut butter, and spices like turmeric, cumin and paprika.
At Bay's Kitchen we make Low FODMAP foods, which are great for when you don't have time to cook from scratch. Shop our products here.
8. Have FODMAP Friendly snacks to hand
Snacking can be a challenge on FODMAP elimination as many popular snacks (like biscuits and cereal bars) aren't FODMAP friendly. Again the key here is preparation – no-one enjoys being caught hungry without a suitable snack to hand.
Good options for low FODMAP snacks include popcorn, peanut butter, oatcakes, sesame seed bars, low FODMAP fruit, rice cakes with boiled eggs, lactose free yoghurt, or a small handful of mixed nuts.
9. Make the most of helpful resources
Although you might be new to the FODMAP diet there's no need to go it alone because there are lots of incredibly helpful resources available. Download the Monash FODMAP app for a handy on-the-go guide to FODMAPs and check out some of the great recipe books and resources online – we love Emma Hatcher's book The FODMAP friendly kitchen. Your dietitian may also have food guides and recipes that can help you with successful elimination.
You can find more details on useful resources here.
10. Plan a dinner party at home
One thing that can be tough on the elimination stage of the diet is eating out, because it's hard to ensure restaurant meals don't contain any high FODMAP ingredients. As it's important to stick closely to the elimination stage for the best results it can be helpful to choose to eat at home and prepare your own meals, at least in the early stages of the diet.
This doesn't mean missing out on social occasions – planning a low FODMAP friendly dinner party at home is a great way to stay on plan and experiment some fancier low FODMAP recipes. For example you could try creating low FODMAP bruschetta, a low FODMAP monkish curry and finish with a flourless chocolate cake. Delicious! We have lots of Low FODMAP recipes available here.
To find out more about the 3 stages of the FODMAP diet please click here.
Written by Registered Dietician Laura Tilt @nutritilty, on behalf of Bay's Kitchen.
Copyright Bay's Kitchen. Please do not reprint without permission.
Introducing Uniquely Created U
Dr Nicholas Peat and Vanessa Peat are husband and wife and the co-founding directors of Uniquely Created Nutrition and Health (UCU). UCU was founded to educate, support, and drive sustained lifestyle change, transforming mindset and shaping a healthy lifetime behavioural change.
Relaxation Techniques
For National Relaxation Day (15th August) we want to share the best ways to relax when struggling with IBS. Why is this so important? Well, stress can be a massive IBS trigger, causing symptoms to worsen and sometimes causing a flare-up on its own.
Feeling your best in 2023
Hi lovely people! It's Emma from @shecanteatwhat here. Now I don't get that back to school buzz that some people do in January. It takes me a few weeks to get out of my post-Christmas daze, to wean-off the chocolate coins and brussel sprouts that I have eaten daily as a side at breakfast and to get back in the I'm-excited-for-work-zone. This blog includes my tips to feel your best in 2023.
Close (esc)
Popup
Use this popup to embed a mailing list sign up form. Alternatively use it as a simple call to action with a link to a product or a page.
Age verification
By clicking enter you are verifying that you are old enough to consume alcohol.