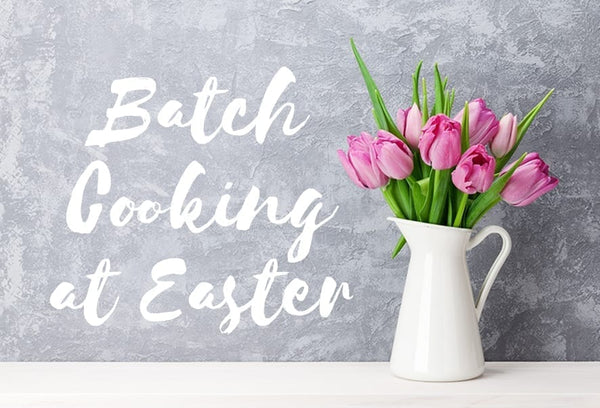 Whether you're lucky enough to have the whole two weeks of Easter Holidays off, or you're just free to enjoy the long Easter weekend, it's a great time to work on some batch cooking and meal prepping!
In order to really make use of your time to batch cook, you need a few key things… plenty of spare tupperware, space in your freezer and your favourite recipes… from which you create your Low FODMAP shopping list.
Batch cooking is great to get the kids involved with too! Most kids enjoy cooking (and just making a mess in the kitchen!), you can task them to find all the items on the shopping list in the supermarket and get their help in the kitchen with stirring, grating, timing and labelling the tupperware!
Here are some of my favourite dishes, from different Low FODMAP bloggers, which I like to batch cook:
Lasagne
This is a great Low FODMAP Lasagne recipe. Lasagne is one of my favourite meals and I just get it out of the freezer, cook and serve with some lettuce or spinach leaves… super quick!
Creamy chicken & greens pie
This pie by Emma Hatcher is devine! Depending on how many you're cooking for, you might want to cook a couple of these and portion and freeze. If there's just one of you, the recipe serves 6 so that's 6 portions you'll get anyway!
Vegan shepherd's pie
This vegan dish is the perfect comfort food and ideal for portioning and freezing. If you're ok with a little dairy you can swap the vegan cheese for Cheddar. Why not try this dish with the whole family for #meatfreemondays?!
Meatballs
Perfect to add to a bed of freshly cooked gluten free spaghetti and Bay's Tomato & Basil stir-in sauce (which you can buy here!).
Ham & cheddar frittata
These little frittatas are perfect for a little snack or for taking to work for lunchtime! They are super quick and easy to make and taste delicious!
View the recipe on our blog here.
Bread
Whilst this is better when freshly made, it still tastes cook when defrosted and warmed and is so useful to have a loaf in the freezer for when you're short on time.
Puff Pastry Pizza Squares
These pizza squares are great for a quick snack, or add some salad and perhaps some potato wedges for a quick but tasty meal!
View the recipe on our blog here.
Chocolate, fruit & nut brownie
These brownies are to die for… and they are Low FODMAP! Whilst like all brownies they are at their best when first baked, if you freeze and defrost, make sure you bake them slightly again so they will be warm to eat… mouth-wateringly good!
We hope you enjoy your batch cooking! There are so many more great recipes to try. I wrote a review on my favourite Low FODMAP cookbooks which you can read here, and they are full of other gorgeous recipes!
If you have found other great recipes, let us know in the comments below. Happy cooking and Happy Easter!
Written by Bay Burdett, Founder & CEO of Bay's Kitchen.
Copyright Bay's Kitchen. Please do not reprint without permission.
Introducing Uniquely Created U
Dr Nicholas Peat and Vanessa Peat are husband and wife and the co-founding directors of Uniquely Created Nutrition and Health (UCU). UCU was founded to educate, support, and drive sustained lifestyle change, transforming mindset and shaping a healthy lifetime behavioural change.
Relaxation Techniques
For National Relaxation Day (15th August) we want to share the best ways to relax when struggling with IBS. Why is this so important? Well, stress can be a massive IBS trigger, causing symptoms to worsen and sometimes causing a flare-up on its own.
Feeling your best in 2023
Hi lovely people! It's Emma from @shecanteatwhat here. Now I don't get that back to school buzz that some people do in January. It takes me a few weeks to get out of my post-Christmas daze, to wean-off the chocolate coins and brussel sprouts that I have eaten daily as a side at breakfast and to get back in the I'm-excited-for-work-zone. This blog includes my tips to feel your best in 2023.
Close (esc)
Popup
Use this popup to embed a mailing list sign up form. Alternatively use it as a simple call to action with a link to a product or a page.
Age verification
By clicking enter you are verifying that you are old enough to consume alcohol.