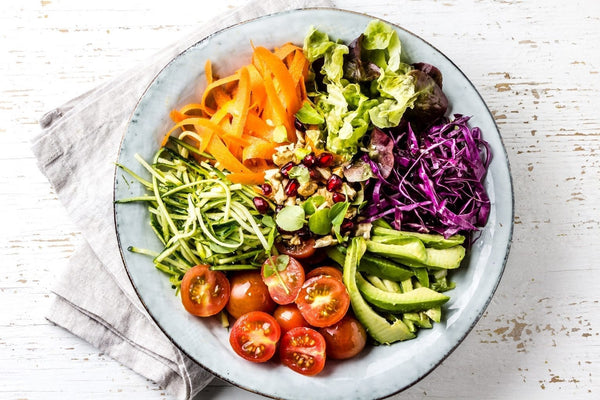 It's January 2020 and I have decided to be vegetarian for a month! Hundreds of thousands of people follow the 'Veganuary' trend and try being vegan for the month of January. I have decided however to try becoming vegetarian first – maybe I'll be vegan next January! Following a Low FODMAP & Vegetarian Diet at the same time can be tricky.
When following a modified Low FODMAP Diet like I am, you are already somewhat restricted on foods you can eat and therefore I think it's sensible to try to 'walk before you can run' and try out combining Low FODMAP with a vegetarian diet before launching into being fully vegan! I am also trying this with a view to it being a long-term thing, not just for January.
---
Following the Low FODMAP Diet is hard enough on it's own, and we would always recommend you seek the help of a Registered Dietician who is FODMAP trained. Adding another diet to it, like becoming Vegetarian will make your diet harder to follow as it's more restricted, and so it is especially important to seek guidance to ensure you are getting the right nutrients and vitamins. If you are thinking of going vegan or vegetarian, ensure you are on the final 'continuation' phase of the Low FODMAP Diet first to be less restricted.
---
I wanted to try out being vegetarian for a number of reasons; it is not a secret that plant-based eating is really good for you. It's good for your gut, for your waistline and your overall health. It's also in many ways better for the environment. If you're as bigger fan of David Attenborough as I am, you will know the devastation caused by mass cattle farming on our planet. Finally, it's because I actually got 'stuck in a rut' with the safe vegetables and other foods I was eating, and so food was becoming a bit boring for me and I wasn't doing my gut microbiota any good with the lack of variety – becoming vegetarian even for only a week made me try so many more vegetables (safe Low FODMAP serves obviously!).
I have always enjoyed peppers, courgettes, tomatoes, cucumber, lettuce, potato and lots of herbs and spices, and these would be a VERY regular fixture in my diet. But what about all the other amazing fruit and vegetables out there, which at certain serve sizes are still FODMAP Friendly?
Below is a list from FODMAP Everyday of Low FODMAP fruit and vegetables… already this week in addition to my staples listed above I have had avocado, carrots, broccoli, bamboo shoots, bok choy, green beans, spinach and parsnips!

So the point I am trying to make is that once on the modified Low FODMAP Diet, you need to remember to keep trying new foods and mixing up your meals. I have been on the modified diet for quite some time and it's so easy to find the meals you like and are safe and just do them on repeat without adding more in.
For Christmas I was bought two vegetarian cookbooks and I was surprised how many recipes were FODMAP Friendly and how many more could easily be FODMAP Friendly with a couple of tweaks (main one being swapping garlic for garlic infused olive oil – a life saver!). So believe me, Low FODMAP & Vegetarian can be done… it just takes a little more thinking about and a bit of experimenting!
Getting the right amount of fibre is a concern when following the Low FODMAP Diet. One big concern for anyone going to a vegetarian or vegan diet is getting enough protein and calcium, so here are some Low FODMAP, Vegan sauces of all 3 (please check safe Low FODMAP serving sizes of these):
Fibre
Soy protein milk
Tofu, tempeh & Quorn mince
Canned lentils & chickpeas
Nuts & Seeds
Quinoa & oats
Protein
Oats, rice, quinoa, quinoa pasta
Broccoli, kale, carrots, potato
Oranges & passionfruit
Linseeds, flaxseeds & chia seeds
Calcium
Fortified almond and soy milks (made from soy protein)
Tofu and tempeh
Almonds, brazil nuts, sesame seeds
Bok choy, kale, spinach, & broccoli
As you will see lots of the items appear in more that one category which is great! So tofu & tempeh for example are both great sources of fibre and calcium. Quinoa and oats are both a good source of fibre and protein. This means it's easier to ensure you get enough fibre, protein and calcium in your diet from eating these types of vegan foods regularly.
---
Most people are concerned with not getting enough protein whilst on a vegetarian or vegan diet, but as long as you are eating a full variety of vegetables, salad, nuts and seeds, as well as some tofu or tempeh then you should be just fine.
If you are concerned then chat about this with your dietician.
---
Nutrients aside, I have to admit, I did worry that I would miss so much food when I decided to go vegetarian. However, I have already found so many new and tasty things to eat. I went to my local pub last week and I would never have tried the vegetarian burger before (it was actually a vegan burger but I added cheddar to it!), but I ordered it and in all honesty it was one of the best burgers I have ever had!
I am actually missing fish and seafood more than I am meat I think, and that's mainly at lunchtimes as I loved tuna or prawn sandwiches! But there are so many good vegetarian and even vegan options out there that I think I will stick to being vegetarian for a while and if I do go back it will be a mainly vegetarian diet with a little bit of fish and meat, rather than the other way around!
Here are six Low FODMAP, Vegan (except 6 which can easily be made vegan) recipes using our sauces, to give you some inspiration if you are thinking of going vegetarian or vegan…
Enjoy experimenting and don't forget to tag us on Instagram with any creations that you make!
Written by Bay Burdett, Founder & CEO of Bay's Kitchen.
Copyright Bay's Kitchen. Please do not reprint without permission.
Introducing Uniquely Created U
Dr Nicholas Peat and Vanessa Peat are husband and wife and the co-founding directors of Uniquely Created Nutrition and Health (UCU). UCU was founded to educate, support, and drive sustained lifestyle change, transforming mindset and shaping a healthy lifetime behavioural change.
Relaxation Techniques
For National Relaxation Day (15th August) we want to share the best ways to relax when struggling with IBS. Why is this so important? Well, stress can be a massive IBS trigger, causing symptoms to worsen and sometimes causing a flare-up on its own.
Feeling your best in 2023
Hi lovely people! It's Emma from @shecanteatwhat here. Now I don't get that back to school buzz that some people do in January. It takes me a few weeks to get out of my post-Christmas daze, to wean-off the chocolate coins and brussel sprouts that I have eaten daily as a side at breakfast and to get back in the I'm-excited-for-work-zone. This blog includes my tips to feel your best in 2023.
Close (esc)
Popup
Use this popup to embed a mailing list sign up form. Alternatively use it as a simple call to action with a link to a product or a page.
Age verification
By clicking enter you are verifying that you are old enough to consume alcohol.